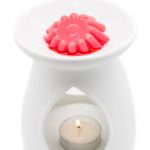 Now that you have the exterior of your home ready for showings, it's time to discuss what needs to be done on the interior.  Stand at your front door and walk into your home.  What does it smell like? If you can smell pet odors, cooking odors or if just smells stale, you need to address that right away.  Open the windows to let some fresh air in and use wax warmers or plug in scents to create a fresh scent in your home.  A foul smelling home will not sell!
When you walk in the door, what do you see? Is the home warm and welcoming or is there clutter and too much furniture?  You want to make sure all surfaces are clear with only a few decorative items.  Remove all personal photos from the walls and shelving. Does the living area feel too crowded? It may be the right time to move some furniture into the garage to open up the space. Is the furniture torn or stained? Investing in slipcovers is a good fix for these issues.
Now let's talk about the kitchen. Are there stains on the stove, sink or counters? You simply must get those stains out and replace items if needed. Your kitchen needs to sparkle! Remember, clear off all surfaces except for a few items to show off all that wonderful counter space! How do the cabinets look? Do they need to be cleaned? Do they need a fresh coat of paint or stain? It is imperative that your kitchen be as crisp as possible.
How do your bathrooms look? Should the caulk around the sinks and tubs/showers be removed and re-applied? No one wants to see mildew in the bathroom as it sometimes indicates a problem. Using a razor blade, carefully cut out the old caulk and replace with new. How are the tiles and grout? Make sure they are clean and free of hard soap stains, etc. And again, check your cabinetry to make sure it looks good as well.
Our final discussion will be the bedrooms.  Be sure they are not overcrowded with furniture. You want to showcase the size of these rooms! Make sure beds are made neatly and that all clothing is hanging or neatly folded in drawers. If you have a storage area in a bedroom, make sure it is organized neatly and efficiently.
Always make sure to clean your home right before a showing. The floors should be vacuumed, swept and mopped; all surfaces should be clean and dust free and bathrooms should gleam.
The next and final part of this series will discuss how to prepare the mechanics of your home.  Stay tuned!